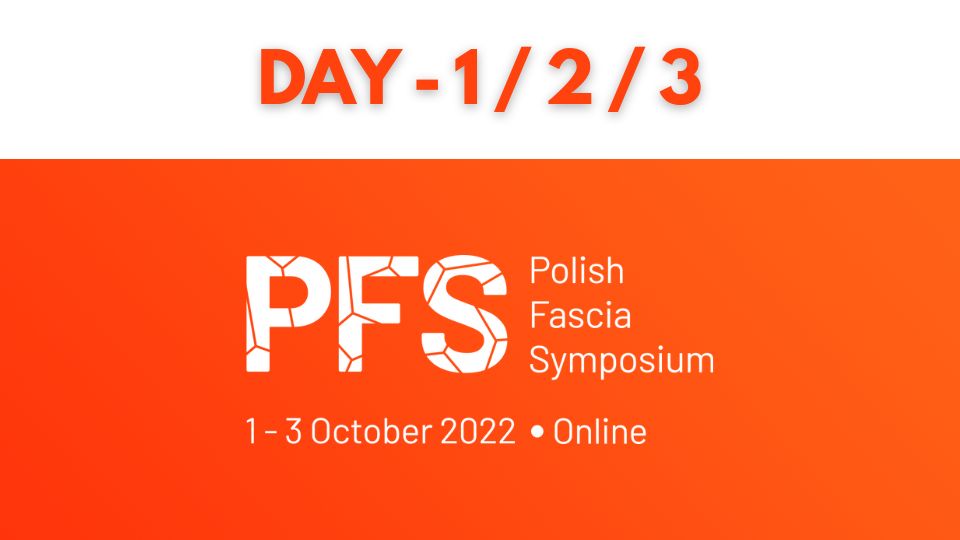 PFS 2022 EN
This set of 23 lectures is the three days of the Polish Fascia Symposium 2022.
It contains over 24 hours of recordings of invited speakers. See below what topics were discussed during the entire PFS 2022.

The set opens with 6 films, divided into 3 days of PFS 2022. They are an accurate record of the symposium and chat conversations.
Description of the set
Andrzej Pilat and Martin Pilat: "Fascia competencies in pelvic floor dynamics. Anatomical and clinical approach."
Ruth Duncan: "Understanding the pain – Is pain all in our head?"
Marcin Wytrążek: "Sectional anatomy of the spine".
Steve Stahl: "RockTape – the functional method of fascial taping".
Daniel Lawrence: "Understanding cupping in 2022".
Akrivi Bakaraki: "Beautystim – IASTM in the Beauty Industry"
Konstantinos Mylonas: "Forward head posture can be corrected with Ergon IASTM techniques and therapeutic exercises, and this is associated with improved funcionality.
Daniel Bienenfeld: "Structural Integration"
Aubrey Gowing: "Locking lumbars"
Karolina Cieślik: "Diaphragm – the muscle of life"
Michał Koszla: "Divergence of the rectus abdominis muscle and the bladder fascia".
Jarosław Gdak: "Lower back pain in team games on the example of American football".
Karolina Dachowska: "Rolling – a temporary fashion or an effective support for the therapist's work?".
Joanna Tokarska: "Neurology and fascia".
– "Fascia'nating world of stroke patient"
– "Fascia'nating world of womens breast"
Clara Fagioli: "Dysmenorrhea: how fascial treatment can improve symptoms and quality of life"
Mariusz Kurkowski: "Biotensegrity concept".
Jakub Czaja: "Bodyreading" as the key to fascia understanding.
Tomasz Leśnikowski: "Mobility and stability in therapeutic approach"
Artur Jakuz: "Kettlebell"
Art Riggs: "Integrated Deep Tissue Massage session – smooth bodywork".